Build Your Burger Competition - Terms & Conditions
- Entries close on Thursday, 28 February 2019.
- Our ten favourite Breakfasts will be posted on our Stadium Instagram Page on Thursday, 7 March 2019.
- Breakfast with the most Instagram likes by Friday, 22 March 2019, will be announced as the winner on Friday, 29 March 2019.
- Only one entry per person.
- Only entries entered through email will be entered into the competition.
- Please note: Competition Winners will have no royalties on sales and hereby waive any legal / intellectual property rights or claims in favour of Stadium Fast Foods.
- The winning recipe will become the property of Stadium Fast Foods.
- Winners will receive prizes as mentioned.
- Judges discussion is final & prizes cannot be redeemed for cash.
- No employees from Stadium Fast Foods or their immediate family is allowed to enter the competition.
- No late entries will be accepted.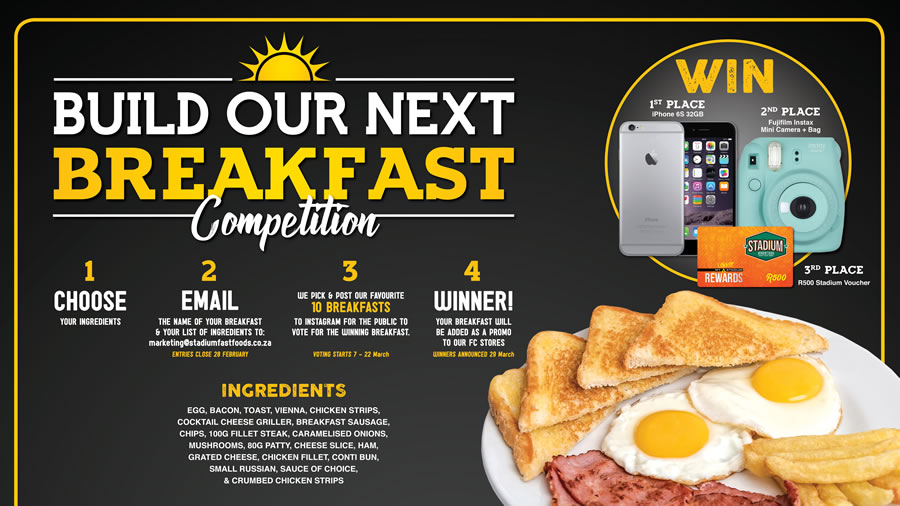 1. Choose your ingredients
2. Email the name of your breakfast & your list of ingredients to:
This email address is being protected from spambots. You need JavaScript enabled to view it.

(Entries close 20 February 2019).
3. We pick and post our favourite 10 Breakfasts to Instagram for the public to vote for the winning breakfast. (Voting: 7 - 22 March 2019).
4. Winner! Your breakfast will be added as a promo to our Food Court Stores (Winners Announched 29 March 2019).
INGREDIENTS:
- Egg, bacon, toast, vienna, chicken strips, cocktail cheese griller
- breakfast sausage, chips, 100g fillet steak, caramelised onions, mushrooms
- 80g patty, cheese slice, ham, grated cheese, chicken fillet, conti bun
- small russian, sauce of choice, & crumbed chicken strips